Wurtec Plumb Line Drop Tool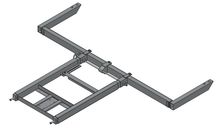 Set your DBG then attach this lightweight aluminum tool onto the landing and extend your plumb lines into the hoistway once anchored to floor at sill.
Allows for fine adjustment in all necessary directions. Simply attach your drill motor to the proper power screw to adjust in either direction. For DBG'S from 72" to 100".
Custom sizes available.