NVQ Lift Engineering Training & Certification
---


PEW's CSR Activities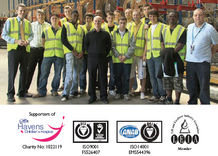 Our CSR (Corporate Social Responsibility) activities are not just optional. They are essential in ensuring that we align our values and behaviour with the expectations and needs of not only our staff, suppliers and customers but also, the community at large.
Inspiring our team....
Helping the community....
Supporting your business
Right: Director, Jason Clark, hosts an open day for Lewisham College students.