Services
---
DropBox Storage London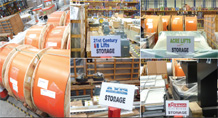 Have your parcels delivered to your DropBox in London and access it 24/7 365 days a year!
With 24/7 security, CCTV and Electronic Access, our storage service will give you peace of mind, with the knowledge that your goods are in safe hands until you require them.
Customers must arrange their own insurance for goods stored at the PEW premises. PEW accepts no liability for damage, loss or checking of goods in.
Free Product Badging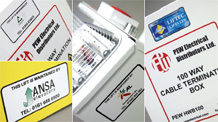 Did you know that we offer a free badging service on all suitable products ordered with us?
With just a copy of your company logo, our design team will generate a self adhesive vinyl logo, which is secured to all suitable products prior to despatch!
Bespoke Signs & Corporate Workwear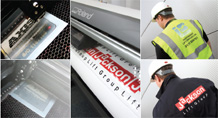 We realise that sometimes, you might require a bespoke item that we do not hold in stock. It might be a specific sign, label, load plate or rope data plate, or perhaps a high visibility waistcoat, coverall or sweatshirt bearing your company logo.
Our workshop service is available to ensure that you get exactly what you are looking for, with no minimum order quantities or artwork fees!
Bespoke Kits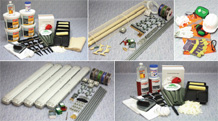 PEW offer a large selection of pre-assembled, cost-efficient kits. These not only help to reduce procurement time, but also ensure that the engineer receives all products required to get the job done quickly and efficiently.
With over 180 different kits in stock, we are confident that there is one for most applications. If not, tell us exactly what you want in your kit, and we'll build it for you at no extra charge!
We Deliver 7 Days a Week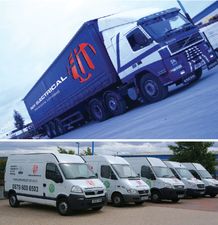 Goods held in our warehouse are usually delivered the next working day on the U.K. mainland, although bulky or fragile items may take longer. The Company will use reasonable endeavours to meet delivery estimates but in no circumstances shall it be liable to compensate the Customer for non-delivery or late delivery.
Unless otherwise stated in writing, the company shall be entitled to make partial deliveries of the goods, subject to availability. Such goods will be invoiced on the date of despatch. Delivery will be made to the address specified by the Customer.
Upon completion of all deliveries, the customer is responsible for protecting the goods against loss or damage until payment in full has been received.
Carriage
Non-Chargeable Carriage

All deliveries falling within the M25 boundary are despatched free of charge next working day before 5 pm.
All deliveries falling outside the M25 boundary with a net value of £100 or more are despatched free of charge next working day before 5pm.
Where a contractual arrangement has been agreed between the Company and the Customer for a particular project, carriage charges for that project may be waivered. For further information, please contact the sales office.

Chargeable Carriage

Unless otherwise agreed in writing with the Company, all deliveries falling outside the M25 boundary with a net value of less than £100 will be despatched, subject to a carriage charge, next working day before 5pm.
For urgent orders the Company can offer a range of competitively priced special delivery services from next day "timed" deliveries to same day deliveries. These services are all chargeable, the prices for which, vary from order to order. For a quotation, please contact the sales office.
PEW Product Guide
Our product guide is available in two sizes, standard A4 (buyers guide) and the more compact A5 (engineers guide). If you require copies of either, please call our sales team, who will be happy to help.