Pit Ladder Restraint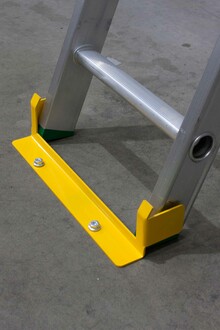 As required by EN81-20:2014 Annex F4(c), the pit ladder restraint ensures a stable ladder position, by preventing the ladder from either tipping or sliding.
Tipping forward into the landing area, should the engineer be either standing on, or grasping the upper half of the ladder (ie: the section above the landing sill level)
Sliding back along the pit floor, should it be wet or oily.
The restraint is fixed to the pit floor using the two universal floor fixings, which are included.
To view the installation PDF please click the link below:-