Plus LED Emergency Shaft Lighting.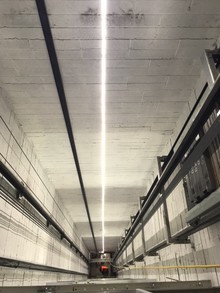 The Plus LED Emergency Shaft Lighting is a PVC Light Strip ordered in multiples of 1 metre, providing even illumination of the entire shaft.
The strip has 12 Emergency LEDs per metre which are powered by the 90000 control box (which needs to be ordered seperately). These 12 LEDs are only illuminated when they are connected to the Emergency control box and either mains has failed or the test button has been pressed.
The strip is pre wired to a tether box.This is where the connections to the switch and emergency feeds from the control box are housed. Within this box are 4 terminals SL + and SL- for the mains part of the strip and SEL + and SEL - which are for the emergency part of the strip. These are wired from the corresponding terminals in the Emergency control box (90000).
Cabling between the tether box and emergency control box has to be ordered seperately.
The Plus LED Emergency strip extends in one piece from the ceiling to shaft pit.
The strip contains 120 LEDs per metre.
The LEDs have a large beam angle which contributes to the high level of illumination (300 lux 1m) within the shaft.
Plus LED is available in continuous lengths of up to 70metres and is supplied with dowel fixings, making installation quick and easy.
** If you require Shaft Light Switches and cable, these will need to be purchased seperately **
Compliant with EN81-20
3 Hours Emergency Power Supply
Increased Beam Angle to >160 deg
24V DC Power Supply Voltage for Emergency Circuit
230V Supply Voltage
IP 65 Rated / Protection Class 2
50.000 Hours Lifetime
Colour Temperature 5000K

To view the data sheet for this product please click the following link: Plus LED Datasheet PDF
| Order Code | Description |
| --- | --- |
| 95308 | 8 metre Plus LED Emergency lighting Strip |
| 95309 | 9 metre Plus LED Emergency lighting Strip |
| 95310 | 10 metre Plus LED Emergency lighting Strip |
| 95312 | 12 metre Plus LED Emergency lighting Strip |
| 95314 | 14 metre Plus LED Emergency lighting Strip |
| 95315 | 15 metre Plus LED Emergency lighting Strip |
| 95316 | 16 metre Plus LED Emergency lighting Strip |
| 95318 | 18 metre Plus LED Emergency lighting Strip |
| 95320 | 20 metre Plus LED Emergency lighting Strip |
| 95322 | 22 metre Plus LED Emergency lighting Strip |
| 95324 | 24 metre Plus LED Emergency lighting Strip |
| 95325 | 25 metre Plus LED Emergency lighting Strip |
| 95326 | 26 metre Plus LED Emergency lighting Strip |
| 95328 | 28 metre Plus LED Emergency lighting Strip |
| 95330 | 30 metre Plus LED Emergency lighting Strip |
| 95331 | 31 metre Plus LED Emergency lighting Strip |
| 95332 | 32 metre Plus LED Emergency lighting Strip |
| 95336 | 36 metre Plus LED Emergency lighting Strip |
| 95337 | 37 metre Plus LED Emergency lighting Strip |
| 95350 | 50 metre Plus LED Emergency lighting Strip |
| 95370 | 70 metre Plus LED Emergency lighting Strip |
| VI3591/SL | Engraved Shaft Lighting Switch |
| | Other length strips up to 70 metres are available to order |
| 90000 | Emergency control box up to 70 metres |