Safeline GL6-FC 4G Volte GSM Gateway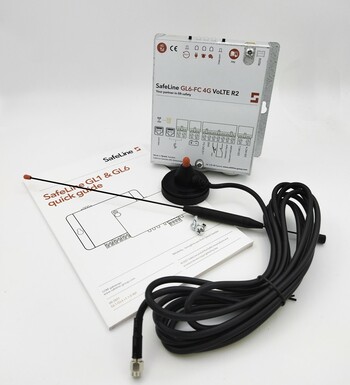 It can be placed in the machine room, the shaft or on the roof of car, and is delivered with a full casing for increased safety in the installation environment and is compatible with Micro SIM-cards. The unitís integrated backup battery ensures operation even during power failures. Backup battery can also support up to three telephones for emergency communication. In case of emergency situation the unit can be programmed to send out text messages to users.
If several telephones are connected to the GL6, these can be used for intercom thanks to the unitís built-in intercom functions. The intercom is then activated through a button on the main unit or with an external button, which enables simple communication between telephones. The GL6 can also be programmed to send text messages to users in the event of battery failure, loss of mains electricity, or with the PEW Leak detection control devices.
Technical Details:
Full casing for increased safety
Mobile services for 2G, 3G and 4G
Gateway for up to nine lift telephones
Integrated battery backup
Intercom available
Advanced surveillance functions
Battery: 12 V, 0.8 Ah
Inputs: 10-30 VDC; 5 mA
Relay: 1 A/30 VDC