FISS6 Self Monitored Emergency Stop Switch FISS6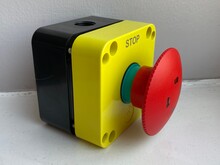 Polycarbonate Push-Pull Stop Switch, Flag Indicated with a 60mm head. IP65 Rated.
The FISS6 has the PCW010SS Self Monitored contact block fitted.
If the contact block becomes detatched from the Mushroom head, the circuit becomes open. This is an important step in accident prevention.
Dimensions: 74 x 74 x 90mm (HWD).
To view the datasheet for this product