Switch Monitored Retractable Pit Ladder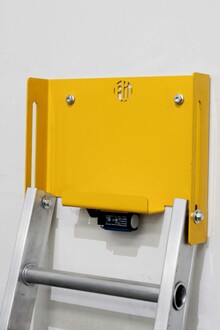 The switch monitored retractable pit ladder is compliant to EN81-20:2014 and EN131. In the stowed position, the ladder rests upright against the shaft wall, secured by its integral wall mounted bracket, which is fitted with a safety switch.
In this position, one of the ladder's rungs sits in the wall bracket support, depressing the safety switch head, which enables the lift to work normally. When required for use, the ladder is lifted from the bracket cup, releasing the safety switch head, which then disables the lift, permitting the lift engineer to work safely in the pit.
The ladder is then manually placed into an inclined position, by sliding the lower half of the ladder horizontally along the pit floor, away from the wall.
This ladder bracket is supplied complete with two universal wall fixings.
To view the installation PDF please click the link below:-