Lift Rope Data Plates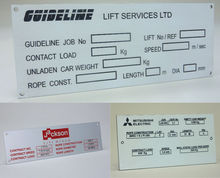 Lift rope data plates are unique in size, material and rope data. However, from the many orders we receive for these, we have illustrated a few different designs. Because it's usually only the rope data that varies, our in-house engraving workshop holds an extensive range of rope data templates on its database. This in turn enables a speedy turn around of bespoke data plates.
Please contact our sales team with your requirements.