Henning AE12 Weight Watcher Evaluation Unit 455000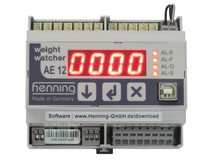 Weightwatcher is suitable for rope between 4mm and 25mm and for loads of up to 3500kg.:
Each rope (up to a maximum of 12 ropes) is fitted with either a pre-calibrated LS type rope load sensor or a pre- calibrated DONUT type load sensor, either directly at the rope (LS type) or at the hitch point (DONUT type).
These load sensors are connected to an evaluation unit, which indicates the overall weight, the individual rope loads, monitors rope tension and indicates slack rope. A time consuming calibration of the sensors, with the test loads, is no longer necessary.
A permanent connection to the lift control unit is achieved by means of four programmable output alarm relays. When the parameters for the output relays have been entered via a keypad, the unit is ready for operation.
The evaluation control (AE12) unit provides up to 12 independent measuring channels for 12 different ropes.
Weight Watcher AE12 Standard Evaluation Unit
Number Of Inputs 12
Supply Voltage 12-28volts DC
Power Consumotion 4 Watts
Determination Of Car Weight Yes
Relays, Programmable 4 NO/NC (Empty,Full,Overload,Slack Rope & Rope Tension)
Analogue Output N/A
Hold Input 12-230 Volts AC/DC
CANopen DSP417 N/A
LED 4 Digits>
Operation 3 Buttons>
Dimensions 102.5 x 87.5 x 60mm>
To order the LS1 Rope Load Sensor, Follow this link. LS1 Rope Load Sensor
To order the LS2 Rope Load Sensor, Follow this link. LS2 Rope Load Sensor
To order the RC300 Donut Rope Load Sensor, Follow this link. RC300 Donut Rope Load Sensor
To order the RC500 Donut Rope Load Sensor, Follow this link. RC500 Donut Rope Load Sensor
To order the RC100 Donut Rope Load Sensor, Follow this link. RC1000 Donut Rope Load Sensor