Henning Ride Watcher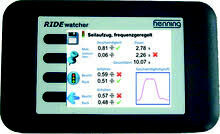 The Ride Watcher is designed to check the ride characteristics of both new and existing lift installations.
Ride Watcher enables lift ride data to be measured simply and quickly, allowing the user to pinpoint any operational malfunctions and to make the necessary adjustments to rectify them.
It consists of a series of measuring sensors combined with an evaluation unit, both of which are housed in the same robust plastic housing.
The unit works independently, negating the need for a connection to a laptop or an external evaluation unit.
Automatic evaluation of the lift ride performance data enables a competent user to operate the Ride Watcher without the need for any lengthy training or instruction.
The information needed to adjust, evaluate, or if necessary, troubleshoot the lift system is supplied quickly and efficiently, without delay.
This makes Ride Watcher extremely useful for lift engineers, test engineers and lift designers alike.
In order to establish the ride characteristics of a lift system using the Ride Watcher, the sensor is placed in the middle of the lift car prior to the ride commencing.
As soon as the ride is terminated, a ride profile and other data, including speed and acceleration profiles are available.
These results are immediately evaluated on the basis of specified parameters, enabling any system corrections to be performed at short notice.
Applications:
Documentation of the ride profile
Setting the correct ride parameters
Measuring the acceleration, deceleration, jerk and speed
Troubleshooting in case of malfunctions
Measurement features:
Acceleration and deceleration behaviour in Z axis
Jerks and vibrations of the lift car
Measurement of the ride profile (e.g. ride at creeping speed)
Evaluation features:
Documents speed, acceleration, deceleration, jerk on the spot unit
Automatic evaluation of measurements
Provides data on ride profile, ride at creeping speed, etc.
Provides information on the location inside the shaft where a malfunction occurs
Adjustment of individual limit values for each type of lift
Makes out a report
Stores measurements in a database
Easy and intuitive operation
Technical Features:
Measuring Axes: Z - vertical, (x & y) optional (Order Code 450401)
Measuring Range: ±1.0g
Bandwidth: 50Hz
Resolution: 1 Mb
Temperature range: 0 - 60°C
Resistance to shocks: 10g
Interface: USB
Measurement without other equipment: Yes
Measurement memory: Yes
User interface: Touch display
Power supply : 4 x 1.5v AA batteries