Memco Ultraslim Detectors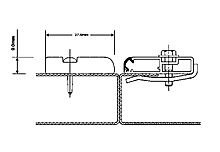 The ultraslim detectors are just 9mm wide which allows them to be fitted to virtually all lifts. They are especially suited to lifts with very narrow running clearances. The aluminium profile of the detector has been especially designed to offer improved rigidity. The detectors are mounted using pan head self tapping screws, provided in the fixing kit. However, if the transmitter and receiver positions are reversed, countersunk self-tapping screws are also provided and can be used to mount the detectors.
A special kit of 5 fixing clamps is available to order below for installations where the door skin is not long enough for mounting the ultraslim using the screws provided.