Kee Klamp Guard Railing Sytems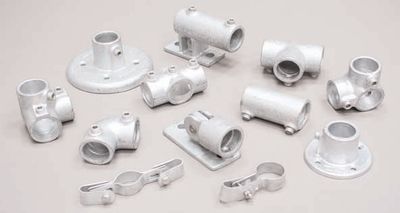 Kee Klamp components are an innovative and versatile product that are used in the construction of car top guard railings, safety barriers and structural framework. The components are installed using only a standard hex key with no threading or welding required. They eliminate the need for hot-permits, specialised labour or equipment and no pre-fabrication of tube structures is required, as everything can
be assembled and built on site. They are also reusable should you wish to dismantle or redesign your structure. The possible applications are almost endless!
Kee Klamp components are galvanised iron castings designed to accommodate galvanized pipe. A standard hex key and tube cutters are the only tools required to create strong, rigid structures. Recessed grub screws, tightened by the hex key, firmly lock the tube into the fitting. The grub screw, which is manufactured in case hardened steel, is protected against corrosion. This, combined with a factory applied coating for the threaded recesses ensures that Kee Klamp components achieve longer life and better corrosion resistance. A Kee Klamp fitting can support an axial load of 2000 lbs (900 kg) per grub screw, when the grub screw is tightened to a torque of 29 lbs/ft (39 Nm).
Saves up to 50% labour costs.
Simple and quick to install.
No threading, welding or bolting.
Durable galvanized finish.
Wide range of components.
We stock Kee Klamp fittings to fit pipe size 6 (34mm outside diameter), however other size fittings and pipe are available to order.
---