Henning Hydraulic Buffers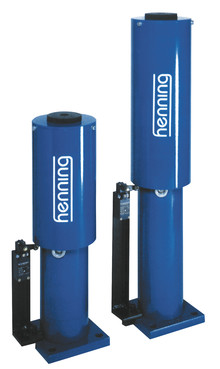 The Henning range of high performance hydraulic oil filled buffers are compliant to Compliant to :-
EN-81-20:2014, EN-81-50:2014 5.5, EN 81-1:1998+A3:2009,EN 81-2:1998+A3:2009
They offer the following features:-
All buffers are supplied ready for immediate use.
The buffer oil level can be viewed through the external sight glass, without having to open the buffer. This keeps buffer maintenance costs to a minimum
Each buffer is fitted with a safety limit switch, compliant to DIN EN 50047, which monitors the extension of the buffer's piston rod
To prevent leakage, the oil chamber uses double sealing, thus increasing operating safety
A rubber impact plate dampens both the impact noise and shock
Ambient working temperature: -10&degC to +50&degC




Because each buffer is hermetically sealed,they can be transported in any position, although they must be installed vertically.

To view the CE Certification sheet for this product please click the following link: Henning Buffer Certificates PDF
| Order Code | Type | Stroke (mm) | Overall Length (mm) | Max Rated Speed (m/s) | Min-Max Strike Load (KG) | Weight With Oil (KG) | Impact Energy (kNm) |
| --- | --- | --- | --- | --- | --- | --- | --- |
| 240080 | LP40 x 80 | 80 | 305 | 1.0 | 450-3200 | 14 | 4.96 |
| 240120 | LP40 x 120 | 120 | 385 | 1.3 | 450-3200 | 16 | 7.44 |
| 240175 | LP40 x 175 | 175 | 495 | 1.6 | 450-3200 | 19 | 10.9 |
| 240275 | LP40 x 275 | 275 | 715 | 2.0 | 450-3200 | 24 | 17.1 |
| 240430 | LP40 x 430 | 430 | 1065 | 2.5 | 450-3200 | 32 | 26.7 |
| 250425 | LP50 x 425 | 425 | 1065 | 2.5 | 500-4500 | 47 | 37.4 |
| 250695 | LP50 x 695 | 695 | 1665 | 3.2 | 500-4500 | 68 | 61.1 |
| 250950 | LP50 x 950 | 950 | 2235 | 3.7 | 500-4500 | 86 | 83.5 |