DMG D43 Indicator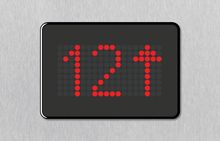 Used extensively in both DMG car and landing fixtures, the D43 is a highly versatile indicator.
Features include:-
Dot matrix or 7 segment with scrolling digits and arrows.
Vertical or horizontal fixing via a dip switch.
Serial or parallel coding.
Tough polycarbonate screen with dual digits + 40mm arrow.
Snap-on fixing for 1-3mm thick plates.
Polycarbonate face plate.
Power Supply: 12/24V.
Cut out dimensions: 75 x 107mm (HW).
Pre-fixed with bi-tonal gong with adjustable volume (35-60dB).
Red or blue display.
EN81-70 compliant.
Works with DEUM8 encoder (see page 689) - Please order separately.
'No gong' options available.
| Order Code | Description |
| --- | --- |
| D43RDMG | D43 Red Dot Matrix Indicator With GonG |
| D43BDMG | D43 Blue Dot Matrix Indicator With Gong |
| D43RDM | D43 Red Dot Matrix Indicator Without Gong |
| D43BDM | D43 Blue Dot Matrix Indicator Without Gong |