DEUM Universal Encoder For DMG Position Indicators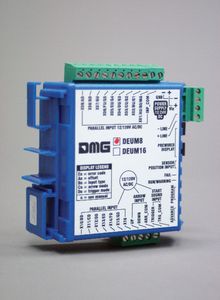 The DEUM universal encoder enables DMG series indicator display series and other electronic components to be fully integrated with all types of control panel. It is supplied with either 8 or 16 inputs as detailed below.
Features include:-
Opto-insulated, non polarised inputs, rated for voltages from 12-120V AC/DC.
Capacity to automatically manage a floor detection kit, independent from the control panel.
Available in 2 formats, 8 input and 16 input.
| Order Code | Description |
| --- | --- |
| DEUM8 | DMG Universal Encoder - 8 Inputs |
| DEUM16 | DMG Universal Encoder - 16 Inputs |