Plus LED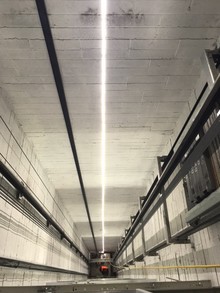 The Plus LED Shaft Lighting system consists of a PVC Light Strip with a 10m power cable, which provides even illumination of the entire shaft
It extends in one piece from the ceiling to shaft pit.
The Plus LED Flexible strip contains 54 LEDs per metre.
The LEDs have a large beam angle which contributes to the high level of illumination (80 lux) within the shaft.
Plus LED is available in continuous lengths of up to 51metres and is supplied with dowel fixings, making installation quick and easy.
** Shaft Light Switches and cable MAY need to be purchased seperately **
The Plus LED system is Switched
It is supplied as mains only but, by purchasing the optional emergency power supply will give 3 hours of emergency lighting along the whole length of the strip
Compliant with EN81-20
3 Hours Emergency Power Supply *** Optional ***
Increased Beam Angle to 120 deg
24V DC Power Supply Voltage for Emergency Circuit
230V Supply Voltage
IP 65 Rated / Protection Class 2
50.000 Hours Lifetime
Colour Temperature 6000-6500K

To view the data sheet for this product please click the following link: Plus LED Datasheet PDF
| Order Code | Description |
| --- | --- |
| 93310 | 10 metre Plus LED lighting Strip |
| 93312 | 12 metre Plus LED lighting Strip |
| 93316 | 16 metre Plus LED lighting Strip |
| 93320 | 20 metre Plus LED lighting Strip |
| 93324 | 24 metre Plus LED lighting Strip |
| 93328 | 28 metre Plus LED lighting Strip |
| 93330 | 30 metre Plus LED lighting Strip |
| 93334 | 34 metre Plus LED lighting Strip |
| 93338 | 38 metre Plus LED lighting Strip |
| 93340 | 40 metre Plus LED lighting Strip |
| 93344 | 44 metre Plus LED lighting Strip |
| 93348 | 48 metre Plus LED lighting Strip |
| 93351 | 51 metre Plus LED lighting Strip |
| VI3591/SL | Engraved Shaft Lighting Switch |
| | Other length strips are available to order |
| 90000 | Optional Emergency control box up to 51 metres |