Plug-In Electronic Gong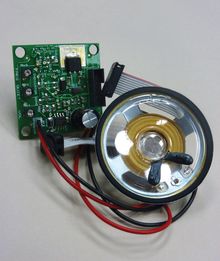 Utilising surface mount technology, this small but compact unit gives a single tone for the up direction and a double tone in the down direction.
The tone is adjustable, along with a quiet mode and adjustable volume, which makes for one of the most flexible electronic gongs on the market today.
The unit plugs directly into the SF750 series of dot matrix indicators (see opposite) and the Clear View series of TFT LCD indicators (see page 701), without the need for any additional wiring, enabling a retrofit option at a later date.
Features include:-
Compact size utilising surface mount technology.
Plug-in unit - no additional wiring required.
DDA compliant, sounding once for 'Up', twice for 'Down'.
Adjustable volume.
Quiet mode.
Order Code : SF750/AG1